본문
Hangang River Ferry Cruise (이랜드크루즈 (한강유람선))
---
290, Yeouidong-ro, Yeongdeungpo-gu, Seoul
+82-2-6291-6900
www.elandcruise.com (Korean only)
[Subway]
Yeouinaru Station (Seoul Subway Line 5), Exit 3.
Go straight for 300m and turn down the path across from Yeouido Middle Shool.
Follow the path to the Hangang River.
The terminal will be about 200 m to your right.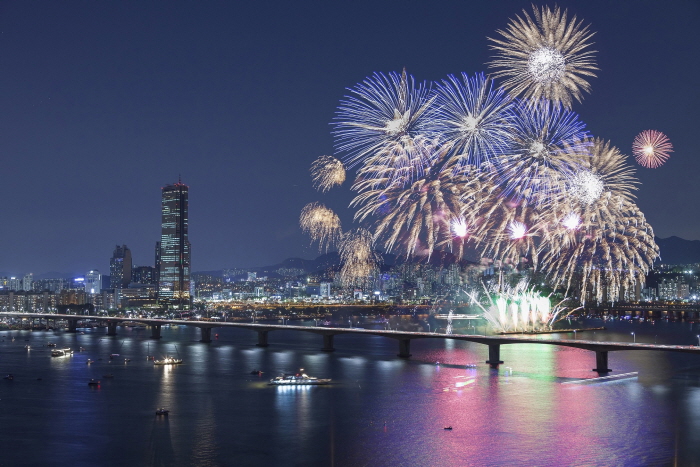 Hangang River Ferry Cruise began operations on October 26, 1986, traversing the Hangang River as it runs through Seoul from east to west. The operation company, E-Land Cruise, currently offers river cruise programs from two ferry terminals, located in Yeonuido and Jamsil. Riders can see the beautiful Hangang River by day on the Story Cruise, or take in the city nightscape and colorful Banpo Rainbow Bridge on the Music Cruise. The Lunch and Dinner Buffet cruises provide delicious cuisine.
E-Land Cruise aims to develop a cruise theme park at Hangang River as the iconic attraction representing Seoul. It also aims to promote and familiarize Hangang River to international tourists as a world famous attraction. Visitors and Seoul residents alike can take a break from the busy urban atmosphere and enjoy a relaxing time while on the cruise.
Warning
: simplexml_load_string(): Entity: line 1: parser error : StartTag: invalid element name in
/home/tripallways/html/skin/board/trip_en/view.skin.php
on line
236
Warning
: simplexml_load_string(): <!doctype html><html lang="en"><head><title>HTTP Status 404 – Not Found</title in
/home/tripallways/html/skin/board/trip_en/view.skin.php
on line
236
Warning
: simplexml_load_string(): ^ in
/home/tripallways/html/skin/board/trip_en/view.skin.php
on line
236
Warning
: simplexml_load_string(): Entity: line 1: parser error : Extra content at the end of the document in
/home/tripallways/html/skin/board/trip_en/view.skin.php
on line
236
Warning
: simplexml_load_string(): <!doctype html><html lang="en"><head><title>HTTP Status 404 – Not Found</title in
/home/tripallways/html/skin/board/trip_en/view.skin.php
on line
236
Warning
: simplexml_load_string(): ^ in
/home/tripallways/html/skin/board/trip_en/view.skin.php
on line
236
Warning
: Invalid argument supplied for foreach() in
/home/tripallways/html/skin/board/trip_en/view.skin.php
on line
238
Warning
: simplexml_load_string(): Entity: line 1: parser error : StartTag: invalid element name in
/home/tripallways/html/skin/board/trip_en/view.skin.php
on line
342
Warning
: simplexml_load_string(): <!doctype html><html lang="en"><head><title>HTTP Status 404 – Not Found</title in
/home/tripallways/html/skin/board/trip_en/view.skin.php
on line
342
Warning
: simplexml_load_string(): ^ in
/home/tripallways/html/skin/board/trip_en/view.skin.php
on line
342
Warning
: simplexml_load_string(): Entity: line 1: parser error : Extra content at the end of the document in
/home/tripallways/html/skin/board/trip_en/view.skin.php
on line
342
Warning
: simplexml_load_string(): <!doctype html><html lang="en"><head><title>HTTP Status 404 – Not Found</title in
/home/tripallways/html/skin/board/trip_en/view.skin.php
on line
342
Warning
: simplexml_load_string(): ^ in
/home/tripallways/html/skin/board/trip_en/view.skin.php
on line
342

Warning: Invalid argument supplied for foreach() in /home/tripallways/html/skin/board/trip_en/view.skin.php on line 347

Location guidance
(07337) 290, Yeouidong-ro, Yeongdeungpo-gu, Seoul


Warning
: simplexml_load_string(): Entity: line 1: parser error : StartTag: invalid element name in
/home/tripallways/html/skin/board/trip_en/view.skin.php
on line
442
Warning
: simplexml_load_string(): <!doctype html><html lang="en"><head><title>HTTP Status 404 – Not Found</title in
/home/tripallways/html/skin/board/trip_en/view.skin.php
on line
442
Warning
: simplexml_load_string(): ^ in
/home/tripallways/html/skin/board/trip_en/view.skin.php
on line
442
Warning
: simplexml_load_string(): Entity: line 1: parser error : Extra content at the end of the document in
/home/tripallways/html/skin/board/trip_en/view.skin.php
on line
442
Warning
: simplexml_load_string(): <!doctype html><html lang="en"><head><title>HTTP Status 404 – Not Found</title in
/home/tripallways/html/skin/board/trip_en/view.skin.php
on line
442
Warning
: simplexml_load_string(): ^ in
/home/tripallways/html/skin/board/trip_en/view.skin.php
on line
442
Photo
Warning
: simplexml_load_string(): Entity: line 1: parser error : StartTag: invalid element name in
/home/tripallways/html/skin/board/trip_en/view.skin.php
on line
565
Warning
: simplexml_load_string(): <!doctype html><html lang="en"><head><title>HTTP Status 404 – Not Found</title in
/home/tripallways/html/skin/board/trip_en/view.skin.php
on line
565
Warning
: simplexml_load_string(): ^ in
/home/tripallways/html/skin/board/trip_en/view.skin.php
on line
565
Warning
: simplexml_load_string(): Entity: line 1: parser error : Extra content at the end of the document in
/home/tripallways/html/skin/board/trip_en/view.skin.php
on line
565
Warning
: simplexml_load_string(): <!doctype html><html lang="en"><head><title>HTTP Status 404 – Not Found</title in
/home/tripallways/html/skin/board/trip_en/view.skin.php
on line
565
Warning
: simplexml_load_string(): ^ in
/home/tripallways/html/skin/board/trip_en/view.skin.php
on line
565
Nearby Tourism, Accommodation Information
Warning
: simplexml_load_string(): Entity: line 1: parser error : StartTag: invalid element name in
/home/tripallways/html/skin/board/trip_en/view.skin.php
on line
630
Warning
: simplexml_load_string(): <!doctype html><html lang="en"><head><title>HTTP Status 404 – Not Found</title in
/home/tripallways/html/skin/board/trip_en/view.skin.php
on line
630
Warning
: simplexml_load_string(): ^ in
/home/tripallways/html/skin/board/trip_en/view.skin.php
on line
630
Warning
: simplexml_load_string(): Entity: line 1: parser error : Extra content at the end of the document in
/home/tripallways/html/skin/board/trip_en/view.skin.php
on line
630
Warning
: simplexml_load_string(): <!doctype html><html lang="en"><head><title>HTTP Status 404 – Not Found</title in
/home/tripallways/html/skin/board/trip_en/view.skin.php
on line
630
Warning
: simplexml_load_string(): ^ in
/home/tripallways/html/skin/board/trip_en/view.skin.php
on line
630
Warning
: Invalid argument supplied for foreach() in
/home/tripallways/html/skin/board/trip_en/view.skin.php
on line
634
#서울시
#Hangang River Ferry Cruise (이랜드크루즈 (한강유람선))
#관광정보
#